An important component of the economy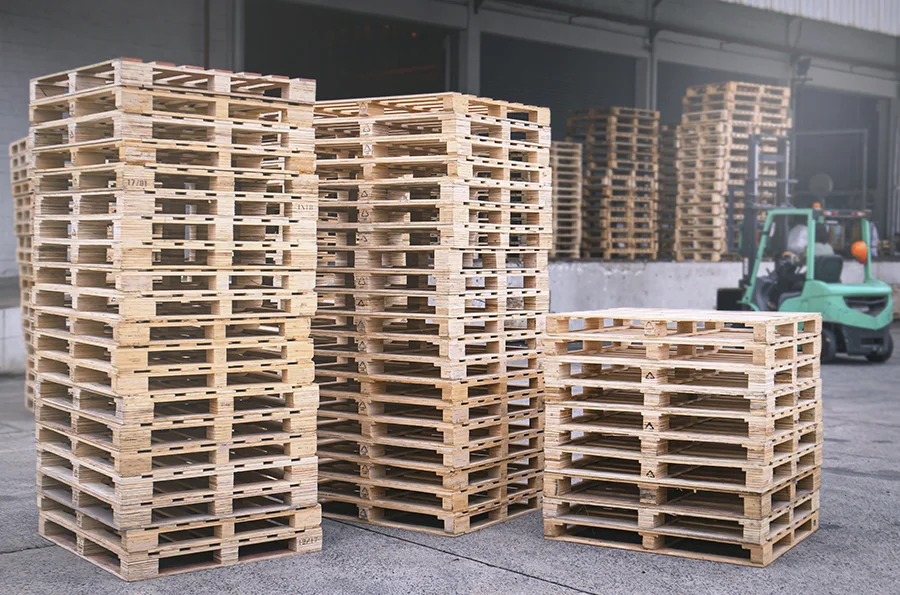 Wood is one of the most important and versatile raw materials on earth. Due to the innumerable occurrences of this natural resource, wood is one of the greenest instruments of the world economy. JODE considers this resource with great care and ensures that wood, one of the most important raw materials in the world, is preserved for the future. Therefore, we attach great importance to recycling, recovery and sustainability.
JODE with a view on the deposits
The Euro pallet - sustainable, resilient and indispensable for the entire global economy. For over 10 years, the EPAL pallet has become the international standard when it comes to exporting goods and commodities. Over 500 million of these pallets are currently in use around the world, and it is also a reusable product made of wood, which is good for the environment. Whether food or metal products are transported or raw materials or products are stored in high-bay warehouses - the Euro pallet is essential. According to the European Union, for export outside the EU, treatment according to the IPPC standard ISPM 15 is a prerequisite.
Since 2022, when it comes to the subject of Euro pallets, the company JODE is indispensable.
With over 3 warehouses spread across Europe and countless distribution partners, JODE is one of the top leading suppliers of pallets in Europe. Thanks to our fast and healthy growth, we are regularly working on additional locations and expanding those. In addition to the many storage areas, in the near future there will be an in-house licensed pallet production, which should bring the already existing annual contingent into the 7-digit range.
What makes JODE so special in connection with pallets and also all other raw materials is the availability and the absolute flexibility. We are constantly working on expanding our capacities, constantly gaining new distribution partners and constantly pushing the limits of our logistics possibilities.
Specifications of Europallets
Among the quality classifications, the following pallet classes belong to the open pallet exchange pool.
Neue / Europaletten
1. Wahl / Klasse A Europaletten
2. Wahl / Klasse B Europaletten
3. Wahl / Klasse C Europaletten
We are constantly working on expanding our capacities... 
Constantly attracting new distribution partners and pushing the limits of logistics capabilities further and further.